Bucharest Travelers Guide
Bucharest, the capital city of Romania, is a vibrant and dynamic destination that offers an exciting blend of Eastern and Western European cultures. Bucharest is a city full of contrasts, where traditional architecture meets modern buildings, and where the past is intricately woven into the fabric of everyday life. As a traveler, planning and research are crucial to fully enjoy your experience in Bucharest. In this blog post, we'll provide you with a comprehensive guide to traveling in Bucharest, including information on the different neighborhoods, top tourist attractions, and day trips.
Getting to Know Bucharest
Bucharest is a city with a rich history and culture that's worth learning about before your visit. The city was founded in the 14th century and has gone through periods of both prosperity and turmoil. During the 20th century, Bucharest suffered under the communist regime, which left its mark on the city's architecture and infrastructure. Despite this, the city has managed to rebuild and reinvent itself in the decades since the revolution, making it an exciting destination for travelers.
The official language of Bucharest is Romanian, but many locals also speak English. The currency used in Romania is the Romanian Leu (RON). The exchange rate between RON and major currencies such as the US dollar and the Euro is quite favorable for tourists.
Exploring Bucharest's Neighborhoods
Bucharest is a city of neighborhoods, each with its own distinct character and charm. Whether you're interested in history, culture, nightlife, or shopping, there's a neighborhood in Bucharest that's perfect for you. Here are some of the most popular neighborhoods to explore:
Old Town (Centrul Vechi)
The Old Town is the historic heart of Bucharest and is known for its beautiful architecture, cobblestone streets, and bustling nightlife. This area is home to some of Bucharest's most famous landmarks, including the Old Princely Court, which was the residence of Vlad the Impaler (the inspiration for Dracula), and Stavropoleos Monastery, a 17th-century Eastern Orthodox church. You can also find plenty of cafes, bars, and restaurants serving traditional Romanian dishes and drinks such as tuica, a type of plum brandy.
Lipscani
Lipscani is a lively neighborhood that's famous for its art galleries, antique shops, and cafes. This area is perfect for those interested in shopping, especially for unique souvenirs such as handmade crafts and vintage clothing. You can also find plenty of street performers and live music in the evenings.
Herastrau
Herastrau is an upscale neighborhood that's home to some of Bucharest's most luxurious restaurants and shops. The neighborhood is named after Herastrau Park, one of the city's largest parks, which is perfect for a relaxing walk or picnic. The park is also home to the Village Museum, an open-air museum that showcases traditional Romanian architecture and crafts.
Piata Victoriei
Piata Victoriei is a bustling area in the heart of Bucharest that's known for its impressive government buildings and museums. The area is centered around Victoriei Square, which is home to the Government Palace and the Romanian Athenaeum, a stunning concert hall. You can also find the Museum of the Romanian Peasant nearby, which showcases the country's rural heritage.
Top Tourist Attractions in Bucharest
Bucharest is full of interesting landmarks and tourist attractions that are worth visiting during your trip. Here are some of the most popular ones:
Palace of the Parliament
The Palace of the Parliament is one of the largest administrative buildings in the world and is a must-see for any visitor to Bucharest.
The building was constructed during the communist regime and is a testament to the grandeur and excess of that era. The Palace is so large that it can be seen from space and features 1,100 rooms, a huge underground network, and a grandiose design that incorporates marble, crystal, and gold leaf. Visitors can take a guided tour of the Palace to learn about its history and see some of its most impressive rooms.
Romanian Athenaeum
The Romanian Athenaeum is a stunning concert hall that's considered to be one of the most beautiful buildings in Bucharest. The Athenaeum was built in the late 19th century and features an impressive neoclassical design with a large dome and columns. The hall is home to the George Enescu Philharmonic Orchestra and hosts regular concerts throughout the year.
National Museum of Art of Romania
The National Museum of Art of Romania is the largest art museum in the country and is housed in a beautiful palace that was built in the early 20th century. The museum's collection includes over 100,000 pieces of art, including works by Romanian artists as well as European masters such as Rembrandt, Rubens, and Monet. The museum is a must-see for art lovers and history buffs.
Arcul De Triumf
The Arcul de Triumf is a triumphal arch that was built in the early 20th century to commemorate Romania's independence. The arch is located in the Herastrau neighborhood and features a neoclassical design with intricate carvings and statues. Visitors can climb to the top of the arch for a stunning view of the city.
Carol Park
Carol Park is a large park located in the southern part of Bucharest and is a popular destination for locals and tourists alike. The park is named after King Carol I, who commissioned its construction in the early 20th century. The park features beautiful gardens, fountains, and statues, as well as an impressive mausoleum that's dedicated to the fallen soldiers of World War I.
Day Trips from Bucharest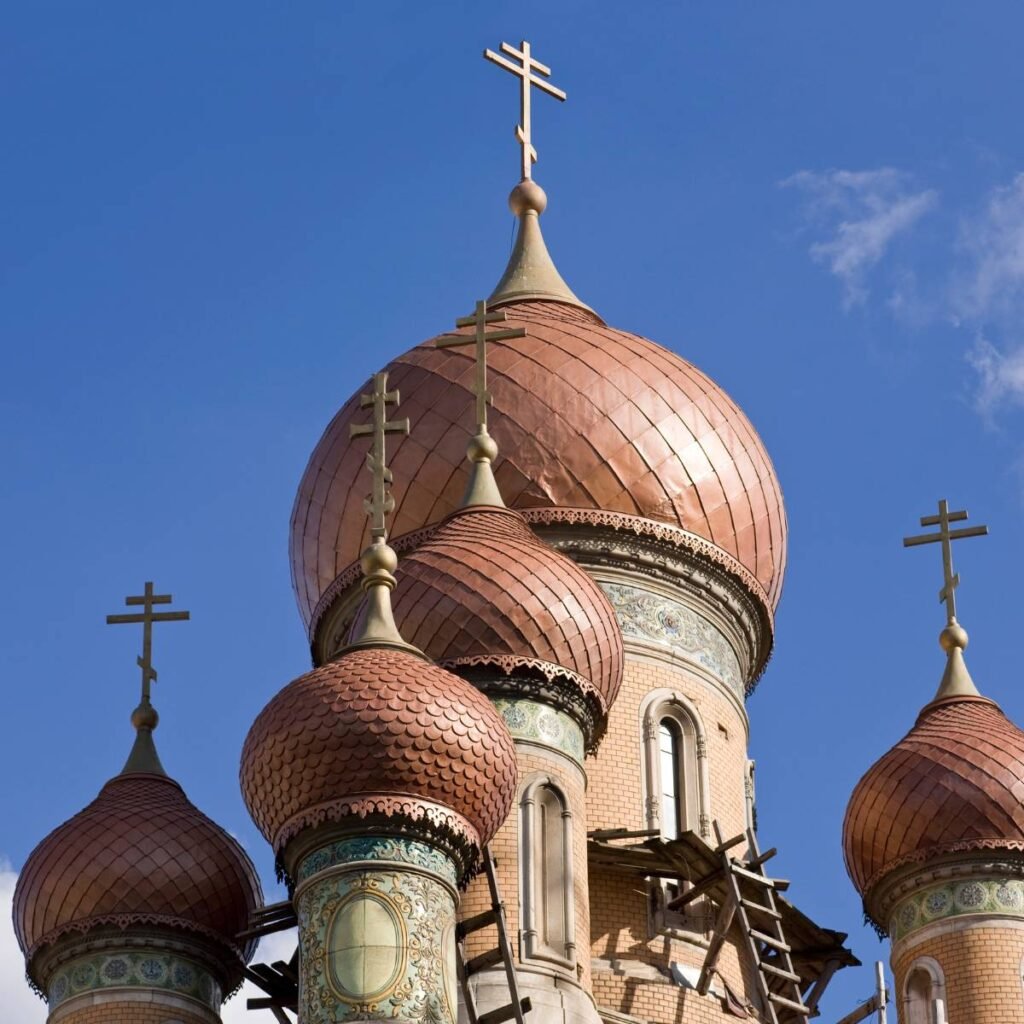 Bucharest is also a great base for exploring some of Romania's other attractions, including historic castles and beautiful seaside resorts. Here are some popular day trips from Bucharest:
Peles Castle in Sinaia
Peles Castle is a beautiful castle located in the town of Sinaia, about two hours from Bucharest. The castle was built in the late 19th century for King Carol I and features a stunning neogothic design with ornate carvings and decorations. Visitors can take a guided tour of the castle to see its impressive collection of art and furniture.
Bran Castle (Dracula's Castle) in Bran
Bran Castle, also known as Dracula's Castle, is a popular destination for fans of horror and Gothic literature. The castle is located in the town of Bran, about three hours from Bucharest, and is said to have been the inspiration for Bram Stoker's famous novel. The castle is now a museum that showcases the history of the region and the legend of Dracula.
Black Sea Resorts in Constanta
If you're looking for a day trip to the seaside, the Black Sea resorts in Constanta are a great option. The resorts are located about two hours from Bucharest and feature beautiful beaches, restaurants, and nightlife. You can also visit the ancient city of Constanta, which has a rich history and is home to several impressive landmarks.
Accommodations in Bucharest
Bucharest offers a wide range of accommodations to suit any budget or preference. Here are some popular options:
Budget-friendly Options in Old Town
If you're looking for a budget-friendly option, the Old Town neighborhood is a great place to start. You can find plenty of hostels and guesthouses that offer comfortable and affordable accommodations. This area is also convenient for exploring the city on foot.
Upscale Hotels in Herastrau and Piata Victoriei
If you're looking for a more luxurious experience, the Herastrau and Piata Victoriei neighborhoods offer some of the best upscale hotels in the city. These areas are also convenient for visiting some of the top tourist attractions in Bucharest.
Airbnb Options Throughout the City
For those who prefer a more independent experience, Airbnb offers a wide range of apartments and houses throughout the city. This is a great option for those who want to stay in a specific neighborhood or who prefer to have more privacy and flexibility during their trip.
Bucharest is a city full of surprises and is an exciting destination for travelers. From its rich history and culture to its vibrant neighborhoods and top tourist attractions, there's something for everyone in this dynamic city. By planning and researching your trip in advance, you'll be able to make the most of your time in Bucharest and experience all that this fascinating city has to offer. Whether you're interested in exploring historic landmarks, shopping for unique souvenirs, or simply relaxing in a beautiful park, Bucharest is a city that's sure to captivate and inspire you.