Top Hotels Near Bucharest's Old Town: Stay in the Heart of the City
Bucharest, the capital city of Romania, offers a wealth of history, architecture, and vibrant culture to explore. One of the city's main attractions is its Old Town, where visitors can wander through picturesque cobblestone streets, admire stunning landmarks and indulge in authentic Romanian cuisine. Choosing the right accommodation can significantly enhance your experience, so we've put together a list of the top hotels near Bucharest's Old Town. In addition to the best hotels in Bucharest, we'll also discuss the growing popularity of vacation rentals as a lodging option.
Top Hotels Near Bucharest's Old Town
Hotels near Bucharest's Old Town offer a convenient location and easy access to the city's most popular attractions. From luxury five-star resorts to budget-friendly accommodations, you'll find something for every type of traveler. Here are some of our top picks:
Epoque Hotel
The Epoque Hotel is a 5-star hotel in Bucharest, nestled in a quiet area just a short walk from the bustling Old Town. This luxurious retreat, inspired by French neoclassical architecture, features elegant suites adorned with custom-made furniture and state-of-the-art amenities. Guests can indulge in the hotel's fine dining restaurant, which serves exquisite international and Romanian dishes, or unwind at the serene spa and wellness center.
This sets itself apart through its personalized service, ensuring every guest feels truly pampered. Its peaceful location, combined with easy access to Bucharest's main attractions, makes it an ideal choice for travelers seeking both relaxation and adventure.
Grand Hotel Continental
Step back in time as you enter the Grand Hotel Continental, a hotel in Old Town Bucharest boasting a rich history and opulent charm. This 19th-century architectural masterpiece has been meticulously restored, showcasing intricate design details and preserving its timeless elegance. Each room is uniquely designed, reflecting different European styles, such as Baroque, Empire, and Art Nouveau.
In addition to its luxurious rooms, the Grand Hotel Continental offers an array of services and amenities, including a highly acclaimed restaurant, a chic café, and a sophisticated bar. This historic gem is the perfect choice for discerning travelers who appreciate the old-world charm and exceptional service.
The Mansion Boutique Hotel
A remarkable hotel in Bucharest that combines the grandeur of a historical building with contemporary design elements. This boutique hotel features individually styled rooms, each inspired by a famous city, artist, or artistic movement. From the romantic atmosphere of the Paris room to the bold colors and patterns of the Klimt room, each space offers a unique experience.
Guests can enjoy an extensive breakfast buffet and sample a variety of local and international dishes at the on-site restaurant. Its prime location, just minutes from the Old Town, makes it a convenient choice for travelers seeking both style and convenience. The Mansion Boutique Hotel is truly a one-of-a-kind gem among hotels in Bucharest.
Concorde Old Bucharest Hotel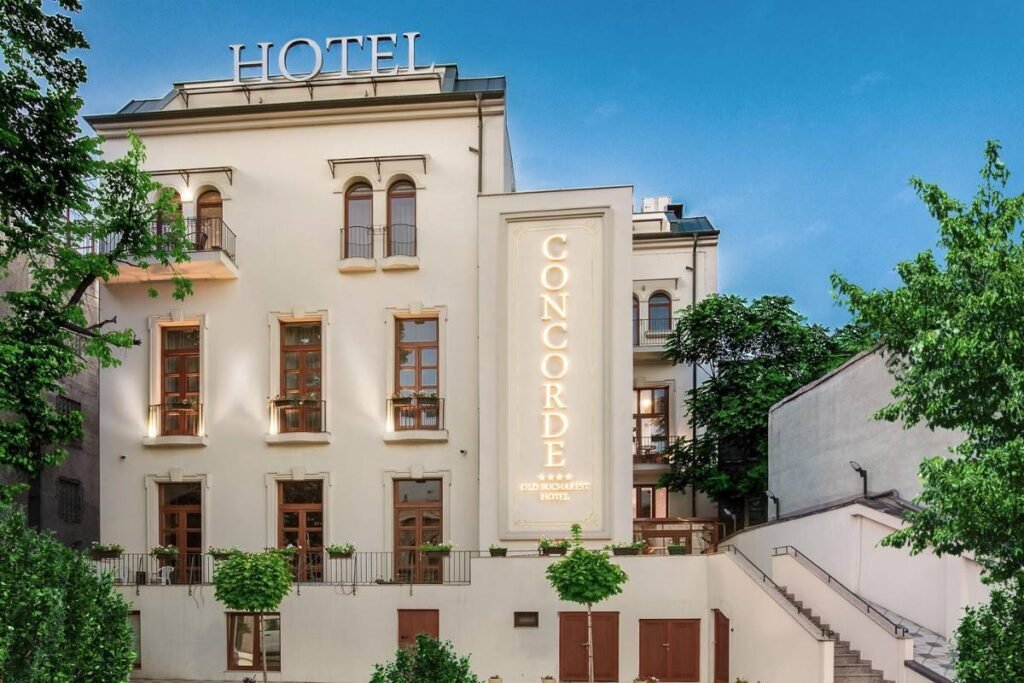 Located in the heart of the city, the Concorde Old Bucharest Hotel provides guests with easy access to the Old Town's attractions, including historical sites, restaurants, and nightlife. This modern, 4-star hotel boasts sleek, stylish rooms with a minimalist design and top-notch amenities to ensure a comfortable stay.
The hotel's on-site restaurant serves a delicious breakfast buffet and offers an array of dishes for lunch and dinner. The Concorde Old Bucharest Hotel also provides excellent customer service, as the staff goes above and beyond to cater to guests' needs. With its combination of modern amenities, comfortable rooms, and central location, this is an excellent choice for travelers looking to stay in a hotel in Old Town Bucharest.
Hilton Garden Inn Bucharest Old Town
A reliable option for travelers seeking familiar comforts and a convenient location. This old-town Bucharest hotel offers contemporary rooms equipped with all the amenities you would expect from the Hilton brand, including comfortable beds, flat-screen TVs, and complimentary Wi-Fi.
The hotel features an on-site restaurant serving a variety of international and Romanian dishes, as well as a 24-hour fitness center and a business center for those traveling for work. The Hilton Garden Inn Bucharest Old Town also boasts an exceptional location, just steps away from the city's main attractions, shopping areas, and vibrant nightlife. With its combination of quality, convenience, and familiar comforts, this hotel is a solid choice for both leisure and business travelers.
Hotel Cismigiu
Hotel Cismigiu is a beautiful boutique hotel in Bucharest located in a historic building dating back to the early 20th century. The hotel offers a blend of classic elegance and modern comfort, featuring spacious rooms and suites adorned with stylish furnishings and high ceilings.
The on-site restaurant, located in an enchanting winter garden, offers a delectable mix of Romanian and international cuisine, while the hotel's rooftop bar provides stunning views of the city skyline. Hotel Cismigiu's central location places guests within walking distance of Bucharest's Old Town and its many attractions. For travelers seeking a charming, historic atmosphere with all the modern comforts, Hotel Cismigiu is an ideal choice.
Vacation Rentals in Bucharest's Old Town
In addition to the top hotels near Bucharest's Old Town, vacation rentals have become an increasingly popular lodging option for travelers seeking a more personalized experience. These rentals, ranging from cozy studios to luxurious apartments, offer numerous benefits for visitors.
Unique Experiences
Vacation rentals provide the opportunity to live like a local, experiencing the culture and lifestyle of Bucharest first-hand. Many rentals are located in historical buildings, giving guests a unique insight into the city's architectural heritage.
More Space and Privacy
They typically offer more space and privacy than traditional hotels, making them an excellent choice for families or groups of friends traveling together. Guests can enjoy the convenience of having separate bedrooms, living areas, and fully-equipped kitchens, providing a comfortable home-away-from-home experience.
Flexibility and Customization
With a wide range of options available, travelers can select a vacation rental that best suits their preferences and budget. Many rentals offer flexible check-in and check-out times, as well as personalized services and amenities.
To find the perfect vacation rental in Bucharest's Old Town, travelers can use popular platforms such as HOLT, which provide detailed information, reviews, and photographs of each property.
The top hotels near Bucharest's Old Town offer a range of styles and experiences, from the luxurious Epoque Hotel to the charming Hotel Cismigiu. Each hotel provides its unique atmosphere, amenities, and location, ensuring travelers can find the perfect accommodation for their stay.
Additionally, vacation rentals offer a personalized and flexible lodging option for those seeking a more authentic experience. Whatever your preference, exploring the enchanting Old Town of Bucharest promises an unforgettable journey into the city's rich history and vibrant culture.