What is So Special About San Miguel De Allende?
Nestled in the Bajío mountains of central Mexico, San Miguel de Allende is a captivating colonial town that has charmed visitors for decades. Its rich history dates back to the 16th century, and today the town has achieved UNESCO World Heritage designation, attracting tourists and ex-pats from around the world. San Miguel de Allende hotels and lodging options are diverse, offering something for every traveler. This article delves into the unique features that make this city so enchanting, from its stunning architecture to its vibrant cultural scene.
Lodging in San Miguel de Allende ranges from budget-friendly hostels to luxury hotels. There is something for everyone, and all of the San Miguel de Allende lodging options have something special to offer their guests.
The Colonial Architecture
The town's historic center boasts a beautiful assortment of well-preserved buildings, adorned with vibrant hues that create a truly picturesque setting. As you explore, don't forget to snap some photos of these unique and memorable backdrops.
San Miguel de Allende is home to several stunning Baroque-style churches that will leave you in awe of their intricate designs and impressive craftsmanship. The most famous of these is La Parroquia de San Miguel Arcángel, an iconic pink limestone church that dominates the town's skyline. Another notable church is Templo de San Francisco, with its beautifully detailed façade and serene interior. Lastly, be sure to visit Templo de la Inmaculada Concepción, a hidden gem that boasts an equally stunning exterior and peaceful atmosphere.
Cultural Scene
Art enthusiasts will find much to appreciate in San Miguel de Allende, as the city is teeming with artistic talent and numerous galleries. A must-visit destination is Fabrica La Aurora, a former textile factory turned vibrant art center, housing dozens of art studios and galleries. Throughout the city, you'll discover a diverse array of artwork, from traditional Mexican crafts to contemporary paintings and sculptures.
The city's lively music scene ensures there's never a dull moment in San Miguel de Allende. Various live music venues host talented performers, ranging from local artists to international acts. Annual events and festivals, such as the San Miguel Jazz Festival, showcase the city's commitment to promoting the arts, providing both locals and visitors with a chance to experience exceptional live performances.
Film lovers won't be disappointed when visiting San Miguel de Allende, thanks to the acclaimed San Miguel International Film Festival. This event attracts filmmakers and enthusiasts from around the world and offers a fantastic opportunity to watch a diverse selection of films, attend workshops, and meet like-minded cinephiles.
The Food Scene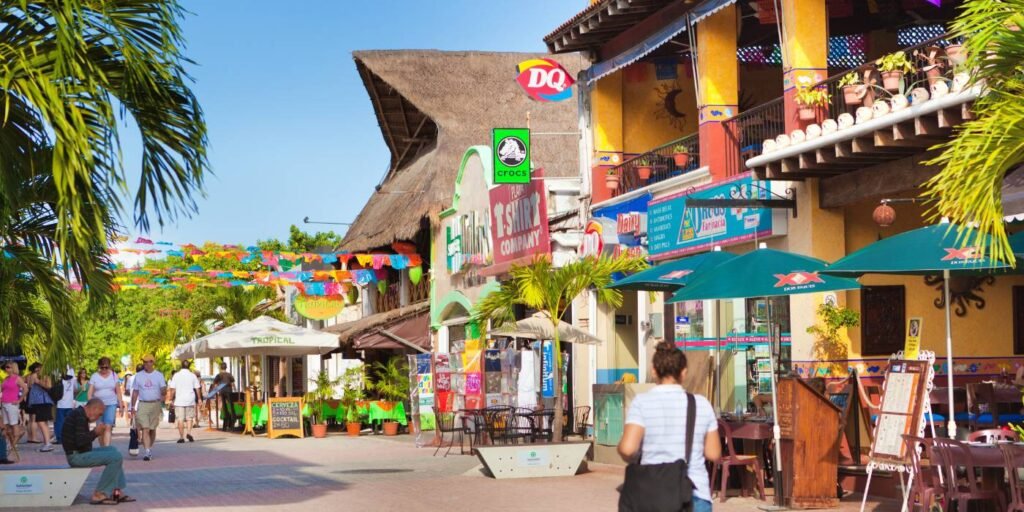 Foodies will relish the opportunity to sample San Miguel de Allende's traditional Mexican cuisine. Indulge in delicious mole dishes, try the famous chiles en nogada, or savor some freshly made tamales. The city's numerous restaurants pride themselves on serving authentic, mouthwatering dishes that showcase the best of Mexican flavors.
International Flavors – Its dining scene doesn't stop at Mexican fare. The city is home to a number of fusion restaurants and dining establishments offering flavors from around the world. You'll find Italian trattorias, French bistros, Asian-inspired eateries, and more, making it easy to satisfy any craving while in town.
Local Markets And Street Food – For a more immersive culinary experience, head to one of San Miguel de Allende's local markets, like Mercado de San Juan de Dios or the organic market. Here, you'll find fresh produce, handmade goods, and an assortment of enticing street food options. Don't miss the chance to try some tasty tacos from one of the many stands and food vendors throughout the city.
These markets provide the perfect opportunity to explore the local flavors and interact with friendly vendors, who are often more than happy to share their culinary secrets and traditions.
The Outdoors
Nature lovers will delight in the serene beauty of El Charco del Ingenio, a botanical garden and nature reserve located just outside the city. This oasis of greenery offers visitors a chance to explore diverse plant life, hike picturesque trails, and spot a variety of bird species in their natural habitat. It's the perfect escape from the bustling town center and a great way to connect with nature.
When it comes to relaxation, San Miguel de Allende's hot springs are the perfect destination. La Gruta and Escondido Place are two popular options that offer visitors the chance to unwind in the soothing, mineral-rich waters. Both locations boast stunning settings, allowing you to soak in the natural beauty while rejuvenating in the warm, therapeutic pools.
Numerous local ranches offer guided tours, giving you the opportunity to traverse scenic landscapes and gain a deeper appreciation for the area's natural beauty. Even if you're new to horseback riding, the friendly guides will ensure you have a safe and enjoyable excursion.
Rich Local Traditions
The area's rich cultural heritage is evident in its numerous festivals and events. One of the most anticipated celebrations is La Alborada, a lively festival that welcomes the arrival of autumn with fireworks, music, and dancing. Other noteworthy events include the aforementioned San Miguel Jazz Festival and the Day of the Dead, a deeply rooted tradition that honors deceased loved ones with colorful altars, parades, and ceremonies.
Its artistic spirit extends beyond its galleries and is embodied by skilled artisans who create beautiful handmade crafts. As you wander through the streets of San Miguel de Allende, you'll come across shops selling intricate pottery, finely woven textiles, and exquisite jewelry. These items make for unique souvenirs and serve as a lasting reminder of the city's creative energy.
San Miguel de Allende's vibrant culture is also showcased through its traditional dance and music. You may have the chance to witness a ballet folklórico performance, a lively dance that reflects Mexico's rich cultural heritage. Additionally, mariachi bands are a common sight, filling the streets with their energetic tunes and providing a live soundtrack to your visit.
San Miguel de Allende's unique blend of stunning architecture, rich cultural traditions, and warm hospitality make it a truly special destination. With a wide variety of lodging options, including hotels in San Miguel de Allende and other accommodations, it's never been easier to plan your visit and immerse yourself in the magic of this captivating city.
From exploring its art-filled streets and indulging in its diverse culinary offerings to discovering the natural beauty of its surroundings, there's something for everyone in San Miguel de Allende. So why wait? Book your stay at one of the many charming places to stay in San Miguel de Allende and experience the enchantment for yourself.