Finding Your Ideal Accommodation in San Miguel de Allende
San Miguel de Allende, an enchanting city in Mexico's heartland, captivates globetrotters with its colonial-era charm, vibrant art scene, and delectable cuisine. A question that arises for travelers planning a trip here is where to stay in San Miguel de Allende. The answer lies in understanding your needs and the unique offerings of this magnificent city.
Choosing your sanctuary in this city can significantly impact your travel experience. With a variety of places to stay in San Miguel de Allende, each catering to different traveler types, it's essential to pick an option that complements your travel itinerary and preferences.
Understanding the Accommodation Landscape in San Miguel de Allende
The city offers a broad range of accommodations, from traditional hotels and boutique guesthouses to vacation rentals. Each type has its unique charm, catering to various tastes, budgets, and travel styles.
Among these, vacation rentals in San Miguel de Allende have been gaining popularity. They provide the privacy you'd enjoy in your own home, coupled with the convenience of essential services. Most importantly, staying in a rental allows you to experience the city like a local, adding an authentic touch to your journey.
Deep Dive into Vacation Rentals
When considering vacation rentals, it's worthwhile to look at the space and facilities on offer. A well-equipped kitchen, comfortable living areas, and a quiet workspace can make a world of difference to your stay. Besides, it's important to consider the rental's location, ensuring it allows easy access to the city's attractions and amenities.
Benefits of Vacation Rentals
Staying in a vacation rental comes with numerous advantages. Some of these include:
Space and Comfort – Vacation rentals often provide more space than traditional hotel rooms, which can be especially beneficial for families or groups traveling together. They offer multiple rooms, a living area, a kitchen, and sometimes even outdoor space. This allows everyone to spread out and relax, making the accommodation feel more like a home than a hotel room.
Privacy – Renting a vacation property means you'll have the place to yourself. There won't be any noisy neighbors in the room next door, no housekeeping knocking at inconvenient times, and you can keep your own schedule without being disturbed. It's your private retreat.
Cost-Effective – For larger groups or longer stays, vacation rentals can be more cost-effective. When the cost is split among multiple travelers, it can end up being less per person than hotel rooms. Additionally, having a kitchen allows you to cook meals at home, saving on dining out.
Local Experience – Staying in a vacation rental allows you to experience the destination as if you were living there. You'll be in a residential neighborhood, shopping at local markets, and possibly interacting with neighbors. This can provide a more authentic and immersive travel experience.
Personalized Choices – Vacation rentals come in a vast range of styles, sizes, and locations. Whether you want a city center apartment, a quiet house in the countryside, or a beachfront villa, there's likely a vacation rental that fits your preferences.
Amenities – Many vacation rentals come with amenities that can make your stay more comfortable and convenient. This can range from a fully equipped kitchen and laundry facilities to luxuries like a private pool or a games room.
Flexibility – With a vacation rental, you're not tied to hotel schedules for things like dining and housekeeping. You can eat when you want, come and go as you please, and live on your own timetable. This can make your vacation feel more relaxed and personalized.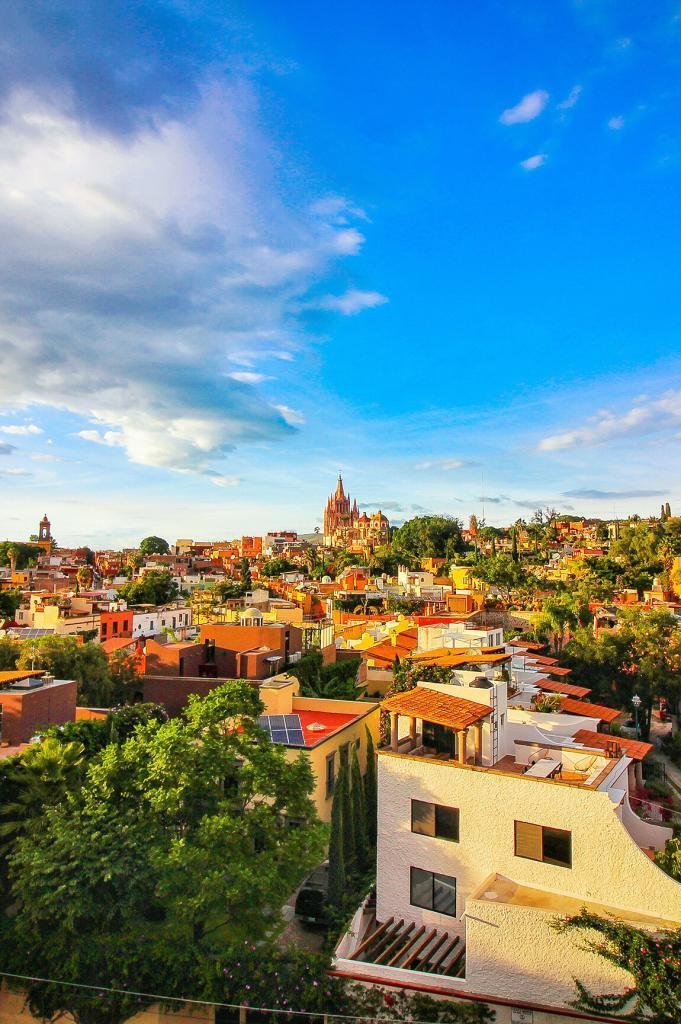 Choosing the Perfect Vacation Rental
Thorough research can lead you to the best place to stay in San Miguel de Allende. Reading reviews from past guests can offer invaluable insights into the property, its upkeep, and the responsiveness of the host.
Your choice of accommodation must align with your travel group and preferences. Solo travelers might value a cozy studio in the heart of the city, while families might prefer a spacious house with multiple bedrooms. For groups of friends, a large villa with a communal space might make for an ideal choice.
Being mindful of the neighborhood is crucial when selecting your vacation rental. Look for areas with a reputation for safety, especially if you plan to return late at night. In addition, consider the rental's accessibility to local attractions, markets, restaurants, and public transport.
In the quest for luxury lodging in San Miguel de Allende, vacation rentals offer a home-away-from-home experience. Their unique blend of privacy, convenience, and local living make them a delightful choice for many travelers. Ultimately, your choice of accommodation should serve as a comfortable retreat after a day of exploring this stunning city. Whether it's a traditional hotel, a boutique guesthouse, or a vacation rental, the ideal place to stay in San Miguel de Allende should align with your travel preferences, budget, and itinerary.
Exploring unique places to stay in San Miguel de Allende, you'll discover the city's distinct personality reflected in the accommodations. From historic homes converted into rentals, and modern apartments with stunning cityscape views, to charming houses nestled in quiet neighborhoods, there's something to suit every traveler's whim.
Don't hesitate to step out of the conventional. Vacation rentals can provide you with a unique perspective, transforming your trip into an unforgettable sojourn. Enjoy the city at your own pace, savor its rhythm, and make lifelong memories in a place that feels just like home. The city of San Miguel de Allende is ready to embrace you with open arms, offering a rich palette of experiences. So, make your choice, pack your bags, and prepare for an unforgettable Mexican adventure!